Reserve seats...
Please note: the prices above are net prices excluding tax. For german customers and non-company customers from abroad, german VAT (19%) has to be added.
The training can be attended on site or online.
Online participants can participate via
Google Hangouts
(a Google account is required). The hangout link will be sent to you before the event begins. Training materials will be mailed to all online participants in advance in hard copy.
Contents
1. Basics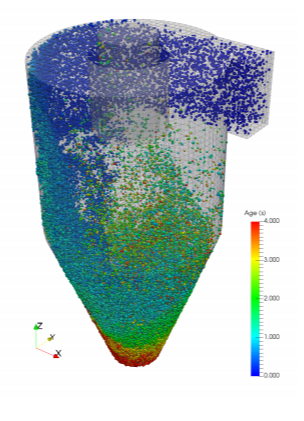 Basics of numerical Simulation using Lagrangian Particle Tracking (LPT)
Configuration of OpenFOAM environment
2. Numerical simulation of particle laden flows
Governing equations
1/2 and 4 way coupling
Model build up
Mesh requirements
Variation of OpenFOAM settings
Runtime-Analysis
PostProcessing of the results
3. Numerical implementation in OpenFOAM
Overview of paricle classes
Understanding of the source code
Using OpenFOAM Syntax
Tutorial: Simulation of simple particle laden flows in OpenFOAM
4. Coupling Euler / LPT in OpenFOAM

Concept of implentation and usage
Numerical failure analysis / mesh settings
Solversettings for simulation speed up
Variation of particle properties
Tutorial: Implementation of a new Euler-Lagrange solver
5. Usage of LPT algorithmn

Application of the implemented solver
Running the solver / steady and transient eulerian fluid
Variation of boundary conditions and particle properties
Best practice guides
Simulation speed up
Tutorials: Practial usage for different examples
Time
9:00 am - 12:00 pm
lunch break (one hour)
1:00 pm - 5:00 pm
All times between April and October are Central European Summer Time (CEST) and Central European Time (CET) otherwise. If desired and with the consent of all participants, the above times may be deviated from.
Language
The course materials are written in English and the course is usually conducted in English. If all participants agree, it is also possible to switch to the German language.
Miscellaneous
Drinks and refreshments will be provided for on-site participants. Lunch on each day of the event is included in the price. You will find directions and recommendations for hotels above under the link "Locations".
All Upcoming Events
19. November 2019 - 20. November 2019
26. November 2019
13. January 2020 - 14. January 2020
15. January 2020 - 16. January 2020
21. January 2020