Reserve seats...
Please note: the prices above are net prices excluding tax. For german customers and non-company customers from abroad, german VAT (16%) has to be added.
The training can be attended on site or online. Due to the current outbreak of the COVID-19 disease, we offer our trainings

exclusively online

until further notice.
Online participants can join via Microsoft Teams. The link will be sent to you before the event begins. Training materials will be mailed to all online participants in advance in hard copy.
Goal of the training
The training is limited to 4 participants. The goal of the training is to discuss the basics of thermal simulation and to set up and calculate your task in the training using OpenFOAM.
This way, besides the basics, a simulation setup for your task will be created, so that you can continue with your project afterwards and have a contact person.
Content
1. Basics
Introduction / Basics of numerical flow simulation with heat transfer with CFD
Configuration OpenFOAM Environment / Overview of Features
Basic knowledge of numerical heat transfer
Avoidance of errors in simulation setup
Best Practice Guidelines in OpenFOAM2. Grundlegende Bausteine
2. Building Blocks
Code structure
Error analysis of the numerical simulation
Runtime Analysis Mechanism
Evaluation of results / evaluation of integral characteristic values
Estimation / error estimation of the results
3. Heat Transfer
Overview of boundary conditions for heat transfer in OpenFOAM
Understanding the source code / solver procedures / tools
Application OpenFOAM Syntax
Tutorial: Application and Implementation of the Energy Equation in OpenFOAM
4. Heat Conduction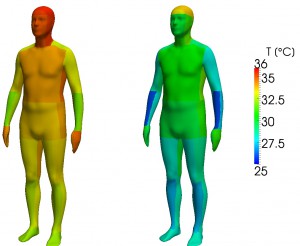 Concept, solution algorithm
Numerical error analysis
Variation of material properties
Tutorial: Heat conduction with different materials and heat sources
5. Konvection
Available solver / classification
Turbulence models
Influence of the Prandtl number
Grid analysis/evaluation
Compressible / incompressible flows
Buoyancy currents
Variation of the boundary conditions
Wall functions for heat transfer
Simulation speed up
Best practice guides
Practical application with examples for

free / forced convection
Conjugate Heat Transfer (CHT)
porous media
Plate heat exchangers
6. Heat radiation
Simulation of thermal radiation in OpenFOAM
Overview of the radiation models (ViewFactor, FvDOM, P1)
Solar radiation / reflection
Settings and Setup in OpenFOAM
7. Questions from the participants
Upcoming Events of the course
Apologies, but no events were found.
Time
9:00 am - 12:00 pm
lunch break (one hour)
1:00 pm - 5:00 pm
All times between April and October are Central European Summer Time (CEST) and Central European Time (CET) otherwise. If desired and with the consent of all participants, the above times may be deviated from.
Language
The course materials are written in English and the course is usually conducted in English. If all participants agree, it is also possible to switch to the German language.
Miscellaneous
Drinks and refreshments will be provided for on-site participants. Lunch on each day of the event is included in the price. You will find directions and recommendations for hotels above under the link "Locations".
How to Join
Go to the reservation form by clicking the button below. Alternatively, you can write us an
email
or call us by phone (
+49 381 36 77 98 53
).
Tickets:
Standard:
995.00 €
Reserve seats...
Further Upcoming Events
Apologies, but no events were found.