Reserve seats...
Please note: the prices above are net prices excluding tax. For german customers and non-company customers from abroad, german VAT (19%) has to be added.
The training can be attended on site or online.
Online participants can participate via
Google Hangouts
(a Google account is required). The hangout link will be sent to you before the event begins. Training materials will be mailed to all online participants in advance in hard copy.
Contents
General introduction into thermal simulation  using CFD
Introduction into OpenFOAM for heat transfer analysis
Theoretical background / basic OpenFOAM theory regarding numerical simulation for heat transfer
Step by step using OpenFOAM
Application of all types of boundary conditions for incompressible and compressible flows
Knowledge to ensure trustful simulations with heat transfer
Special tutorial cases & extended solvers in OpenFOAM regarding

heat conduction
heat radiation
natural/forced convection
heat transfer in porous media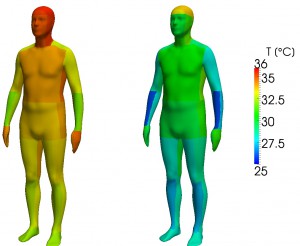 Detailed realisation of test cases by example
Identification and definition of thermophysical properties for different fluids in OpenFOAM
Suitable meshing guidelines for heat transfer
Solver and parameter selection/control
Creation and conduction of user defined cases covering several topics in heat transfer
Best Practice Guidelines
Interpretation of the results
Time
9:00 am - 12:00 pm
lunch break (one hour)
1:00 pm - 5:00 pm
All times between April and October are Central European Summer Time (CEST) and Central European Time (CET) otherwise. If desired and with the consent of all participants, the above times may be deviated from.
Language
The course materials are written in English and the course is usually conducted in English. If all participants agree, it is also possible to switch to the German language.
Miscellaneous
Drinks and refreshments will be provided for on-site participants. Lunch on each day of the event is included in the price. You will find directions and recommendations for hotels above under the link "Locations".
All Upcoming Events
13. January 2020 - 14. January 2020
15. January 2020 - 16. January 2020
21. January 2020
21. January 2020 - 22. January 2020
23. January 2020 - 24. January 2020