2th German OpenFoam User meetiNg 2018
21./22. February 2018 , Braunschweig (Germany)

Location: Haus der Wissenschaften (HdW), Braunschweig, Germany
The origanizers
would like to THANK YOU for your participation/ the impressive talks and the yery good feedback from you.
The opportunity to discuss and exchange ideas between users from Germany and abroard on an opensource level is the basis of our success.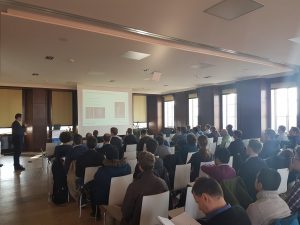 With thanks to our sponsors the workshop is free of charge.
Final Program
Conference Day, Wednesday 21st February 2018
Community Day, February 22st March 2018
ROOMS
Wed 21 February, 2018
Haus der Wissenschaften
Room Veolia/Weitblick, Pockelsstr, 11, 5th floor

Thu 22 February, 2018
TU Informatik-Zentrum
Room M160/M161, Mühlenpfordtstr. 23, 1st floor
Room M811/M826, Mühlenpfordtstr. 23, 8th floor
The final program can be downloaded as 2018flyer.
Your
GOFUN Team
Sponsors:
Schulungskurse
Keine Veranstaltungen